PRO910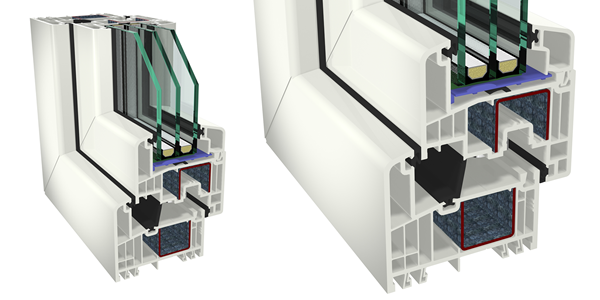 The new, 7-chamber Kombisystem S 9000 with a depth of 83 mm has both the advantages of a system with a central seal and a resistance seal.
The deeper construction of the frame and sash as well as gaskets embedded in three planes guarantee the highest thermal insulation at the level of Uf = 0.92 W / m2K. Thanks to this, windows in the Kombi system meet the highest requirements.
The intelligent design of the Kombi system allows you to create elegant and modern windows. Low frames and sashes allow for fashionable, large glazing. The insulated fitting groove ensures better performance of the fitting elements, especially at low outside temperatures.
It also provides an effective acoustic barrier for noise typical of large agglomerations and busy streets. A thermal foot placed under the window frame improves the thermal insulation of the mounted window.
The whole Kombisystem is compatible with the proven S 8000 IQ plus system.
Kombisystem has been designed to optimally use the advantages of STV® technology consisting in gluing the windshield and sash with double-sided adhesive tape using traditional blocking.
Thanks to STV®, the windows are warmer and more comfortable to use. The simultaneous use of STV® and steel in the wing allows the construction of larger elements.
PRO910:
excellent thermal insulation at the level of Uf = 0.92 W / m2K
the steel section forms the seventh chamber in the frame, which ensures a balance between static and thermal insulation
the flexible central gasket enables the construction of windows in the selected variant, with a central or resistance gasket
deeper glass placement due to the raised 26 mm high glazing bead and higher rebound eliminates the formation of thermal bridges on the edge of the glazing unit
an additional gasket in the glazing notch provides an effective barrier to cold outside air and improves sound insulation