PRO70 ALU HI window and door system with increased thermal insulation
In response to the constantly growing demand for construction products with high thermal insulation, we have developed door and window systems with thermal break PRO70 ALU HI, PRO70 ALU US HI and curtain wall based on windows PRO70 ALU CW HI. Their construction is based on proven, extended and valued base systems PRO70 ALU, PRO70 ALU US and PRO70 ALU CW.
Thermal insulation of frames of these systems is much higher than the insulation of frames of base systems.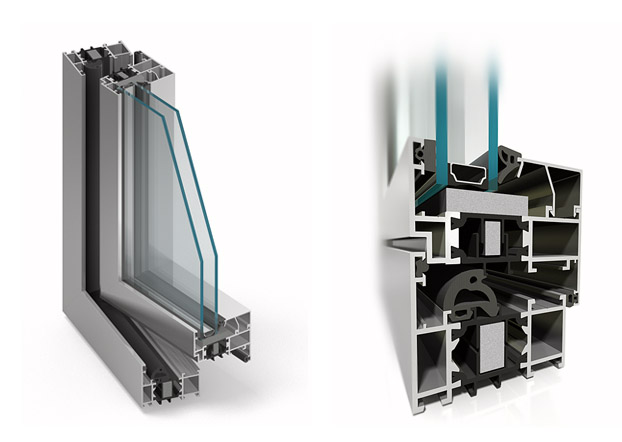 For the construction of the PRO70 ALU HI system, the Uf coefficient, depending on the profiles and accessories used, ranges from 1.0 to 2.3 W/m2K.
Increasing the thermal insulation is achieved by placing special insulating inserts in a central, insulating chamber created by combining aluminium profiles with thermal breaks. These inserts, due to their low heat conduction coefficient, reduce the heat flow through the chamber. The central position of the inserts also limits convection and thermal radiation.
Windows and doors of the PRO70 ALU HI system, similarly as in the case of the base system, can be used both in individual buildings and aluminium facades. When used as a filling for a transom post wall, it is most appropriate to combine it with a system with increased thermal insulation PRO50 ALU SR HI.