PRO59 ALU Hs Lift&Slide door system
Lift&Slide doors are an ideal solution as a building connecting rooms or winter gardens with the external environment. They are comfortable exits to the balcony, terrace or open space of the garden. They enable a very good contact with the environment, and in an open position they do not take up space inside the room, which further increases the comfort of their use.
The PRO59 ALU Hs system offers a wide range of construction possibilities in the field of lift and slide doors, and at the same time it is a solution optimized in terms of construction and dimensions of wing and frame profiles.
The parameters of doors made of its elements are characterized by high thermal and acoustic insulation, as well as water and air tightness, so that the system meets all requirements for energy saving and environmental protection.
The MB-59HS system sections have two construction variants differing in thermal insulation: ST and HI. The range of available profiles includes two- and three-rail frames, as well as sashes adjusted to two heights of carriages. A wide range of glazing allows for mounting one- or two-chamber sets, including acoustic or anti-burglary sets.
Thanks to its properties, this system can be used in various types of buildings, both individual and hotel or apartment buildings.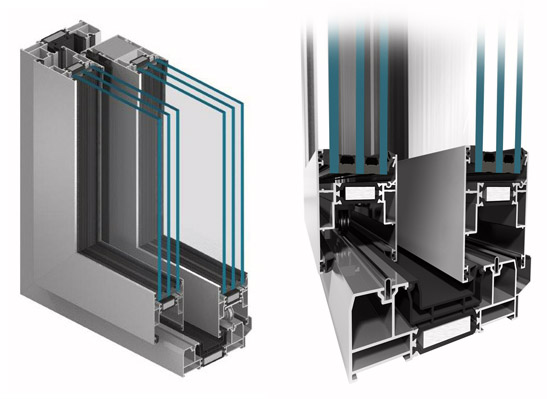 Advantages of PRO59 ALU Hs:
large permissible dimensions of door leaves, significantly exceeding the values considered standard: height up to 2.8 m, width up to 3.3 m; maximum leaf weight up to 300 kg
slender and durable sections of three-chamber construction, where the central part is an insulation chamber with wide thermal separators,
2- or 3-rail frames for doors with a wide passageway light
– wide range of glass thicknesses possible to be installed in door leaves (up to 42 mm), which gives freedom to choose glass with appropriate parameters
fixed quarters possible with glass mounted directly in the frame (aesthetic and economical solution)
relatively low heat transfer coefficient of Uf frames provided by wide thermal separators, polyethylene inserts and chamber plastic profiles installed in thermal insulation strips
high water and air tightness achieved thanks to special gasket shapes and fittings enabling the sash to fall down on the frame in the last stage of closing the door leaf
possibility to install most of the Lift&Slide hardware available on the market
available version of the door with a low threshold, which facilitates the use of the door especially for the elderly or disabled
possibility of installing doors in individual buildings as well as in larger structures: post and transom facades or winter gardens
maximally simplified construction technology, shortening the time and cost of door construction
compatibility with other Profitech systems – possibility to use common components
Technical parameters of the door MB-59HS:
Air permeability: class 3, EN 12207
Wind load resistance: up to class C3, EN 12210
Thermal insulation: Uf from 1.8 W/(m2K)