PRO MONO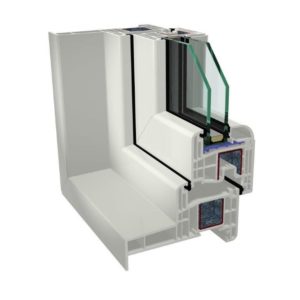 The window was built based on a specific frame that looks like a glued window frame with a window sill, called Monoblock.
PRO MONO windows made based on the GEALAN S8000 system are intended for homes where the insulation layer is installed from the inside of the room. In this layer, frames are mounted, whose characteristic "window sill" is from the outside of the room.
The PRO MONO frame tightly and aesthetically masks insulation around the entire perimeter of the window opening.
A wide range of PRO MONO profile solutions allows for their proper selection depending on the thickness of insulation and the inner rebate ensures the aesthetic installation of drywall – gypsum boards.
The six-chamber system S 8000 IQ has good thermal insulation properties and an effective system protecting against noise and burglary.
High-quality thermal protection of windows helps to reduce not only heating costs, but also actively contributes to the reduction of carbon dioxide emissions into the atmosphere.
The patented GECCO ventilation system effectively prevents the formation of fungus and mold.
|   | PRO MONO |
| --- | --- |
| Profile | 6-chamber, classic, simple shapes. External seals, flat water shelf. |
| Glass | It is possible to use a  4/18/4/18/4 package U = 0.5 W / m2K and other variants e.g. protection against burglary, noise or sun |
| Fittings | SELF-REGULATING fittings equipped with anti-burglary catches, give the possibility of tilt grading in each operating sash |
| Colours | A wide range of colored and wood-like veneers. |
| Additional info | Excellent thermal insulation. Among the solutions available in Europe, the window has the highest static parameters, which affects the possibility of making the largest overall dimensions. External sealing makes it very easy to keep windows clean. |