PRO800 ACRYL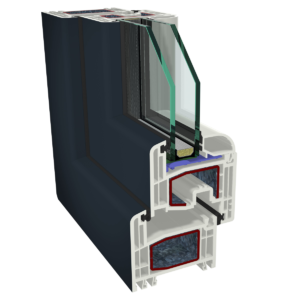 Colorful window profiles create clear accents in the whole facade. Thanks to such accents, ordinary houses become more attractive, eye-catching, and become recognizable.
Even extravagant ideas of designers or color nuances typical of a given region are not a problem for us. The full palette contains all shades, from subtle gray to bright red, so you can easily choose a matching color.
All acrycolor profiles are characterized by durable dyeing and have a RAL certificate. Quality is the highest priority of GEALAN, also in the case of colored PVC windows.
That's why GEALAN produces colorful acrycolor profiles using a unique dyeing process. It combines white primer and colored acrylic glass in an inseparable way.
The outer layer of acrylic glass has a high scratch resistance and is inert to weather conditions such as sun, wind, rain, cold and temperature fluctuations.
Silky matt, smooth and pore-free surface is insensitive to dust and dirt.
There is therefore no peeling or chipping of paint, so you do not need to repaint the colored elements again. Windows from acrylcolor profiles are practically maintenance-free and easy to clean. They almost "repel" dirt and need just a wash with ordinary cleaning agents. The unsurpassed dyeing durability of acrylcolor profiles remains insensitive to the passage of time.
|   | PRO800 ACRYL |
| --- | --- |
| Profile | 6-chamber, classic, simple shapes. Installation depth 74 mm. External seals, flat water shelf.. |
| Glass | It is possible to use a 4/18/4/18/4 package U = 0.5 W / m2K and other variants e.g. protection against burglary, noise or sun |
| Fittings | SELF-REGULATING fittings equipped with anti-burglary catches, give the possibility of tilt grading in each operating sash |
| Colours | A wide range of colors using a glass coating, the so-called ACRYLIC. |
| Additional Info | Excellent thermal insulation. Among the solutions available in Europe, the window has the highest static parameters, which affects the possibility of making the largest overall dimensions. External sealing makes it very easy to keep windows clean. The use of glass, mass-colored coating in the profiles guarantees many years of color maintenance without the need for maintenance. |