Curtain wall system with increased thermal insulation
The energy efficiency of the entire building depends to a large extent on the thermal insulation of its facade. In this respect, the PRO ALU SR mullion and transom wall is able to meet the increasing expectations of architects and investors of modern buildings.
The offer of Profitech systems includes the PRO ALU SR HI version, in which the heat transfer coefficient values through the Uf frame, depending on the filling thickness, range from 0.81 to 1.27 W/m2K.
Such a high thermal insulation of the structure was achieved by replacing the HPVC continuous thermal insulator with PE insulator, characterized by low lambda heat conduction coefficient and very good insulation parameters, and by increasing the height of the seal in relation to the standard version of the facade.
The PRO ALU SR HI facade enables the use of glazing in the range of 26-44 mm. Apart from high thermal insulation, it also has very good parameters of water (RE 1200 class) and air tightness (AE(1050) class). Resistance to wind load is 2400 Pa.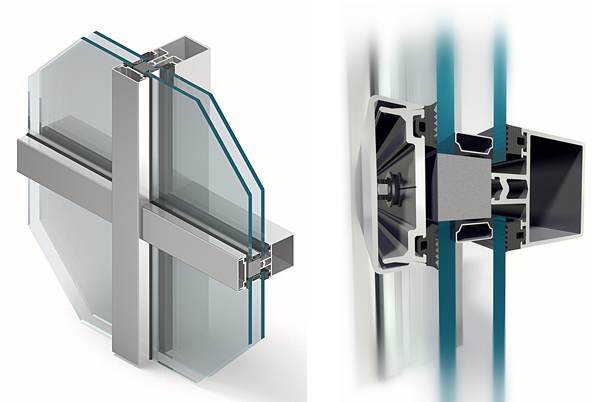 The PRO ALU SR HI structure was tested in the Laboratory of the Department of Lightweight Partitions and Glazing of the Building Research Institute, which is confirmed by Qualification Certificates No. 351/2008/E and 351/2008/E.
The reference document for declaring conformity for vertical facades in the PRO ALU SR HI system is the Harmonized European Standard "PN-EN 13830 Curtain Walls – Product Standard", while the structures of glazed roof coverings based on this system are covered by the Building Research Institute Technical Approval No. AT-15-8158/2013.