PRO70 ALU Sejf burglar-proof windows
The PRO70 ALU Sejf window system is a solution based on the standard MB-70 system, which has been supplemented with elements and accessories ensuring the highest resistance to burglary, available in aluminium structures. The profiles of PRO70 ALU Sejf windows are reinforced from the outside with aluminium flat bars screwed to the profiles of frames and lacings. Closed slats from the MB-86 system are used for glazing. The function of opening / locking window sashes is provided by multipoint, high-strength hardware with mushroom catches. The windows are filled with the P6 B glazing package, which is glued to the window structure.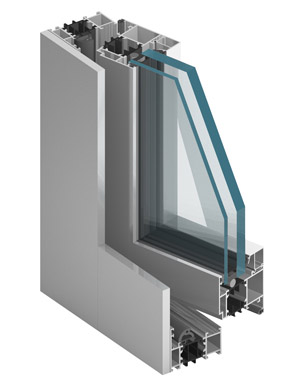 The window constructed in this way was properly tested in the Institute of Precision Mechanics and the tests carried out confirmed that the construction met the requirements of RC4 class according to EN 1627 standard. This means that the window is able to resist an experienced burglar for 10 minutes, equipped with such a large arsenal as a hammer, axe, chisel or battery drill.