PRO NL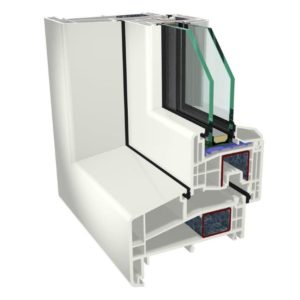 For the Dutch market we produce windows based on GEALAN S8000 system with characteristic massive frames. These are most often profiles coloured in mass, appearing in white and creamy colours. On special request, they can also be veneered with all Renolit colours.
Monstrous PRO NL frames with a width of 115 mm, equipped with very massive steel reinforcements with very large cross-sections, enable the construction of large windows, while maintaining static requirements. The characteristic shape of the external rebate allows for an easy and aesthetic way of installing the windows from the external side of the building. In buildings made of clinker bricks, using PRO NL windows, the installation does not require additional masonry treatment.
The six-chamber system S 8000 IQ with a depth of 115 mm has good thermal insulation properties and an effective system protecting against noise and burglary. Highly tested thermal protection of windows helps to reduce not only heating costs, but also actively contributes to the reduction of carbon dioxide emissions into the atmosphere. The patented GECCO ventilation system effectively prevents the formation of fungus and mould.
|   | PRO NL |
| --- | --- |
| Profile | 6-chamber, classic shapes, simple. Installation depth 115 mm. External gaskets, flat water shelf. |
| Glass | Possibility of using even a 4/18/4/18/4 U=0.5 W/m2K package and other variants such as protection against burglary, noise or sun. |
| Fittings | SELF-REGULATING fittings equipped with anti-burglary catches, the possibility of tilting grading in each tilt and turn sash. |
| Colours | Wide range of colorful and wood-like veneers. Profiles dyed in mass in cream colour. |
| Additional info | Excellent thermal insulation. Among the solutions available in Europe, the window has the highest static parameters, which affects the possibility of making the largest overall construction. External sealing makes it very easy to keep the windows clean. |