Column and transom façade system allowing to make curtain or filling walls, roofs and spatial structures. It uses a new approach to the construction of aluminium profiles and accessories responsible for the tightness and thermal insulation of joints. Thanks to this, the facade ensures a high level of protection of the building against the loss of thermal energy. PRO ALU IZO system gives wide possibilities of shaping the building, it is also designed as a basis for fire and anti-burglary solutions.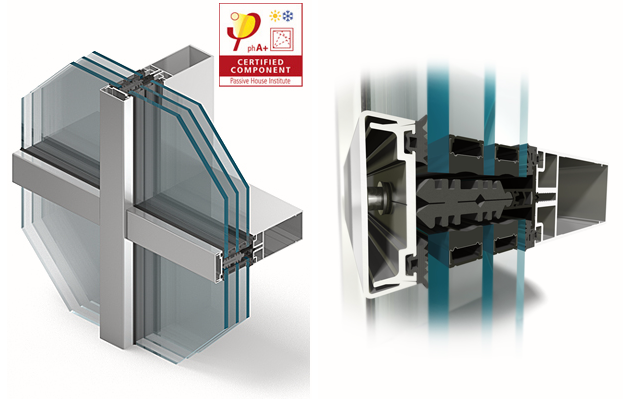 Features that influence the functionality and aesthetics of PRO ALU IZO facades:
profile shapes in line with current trends in architecture make it possible to align the profiles of columns and transoms from the inside of the façade
a series of angular connections gives freedom in the design of spatial structures
a set of matching insulators provides excellent protection against the loss of thermal energy by the structure, and their special shape facilitates the prefabrication of the facade
a set of gaskets and a 3-level cascade drainage and venting system guarantee the proper functioning of the facade even in the most unfavourable weather conditions
wide range of glazing and high load-bearing capacity of the pillar-to-transom connection allow to use many types of glazing and assembly of large, heavy sets
wide range of opening elements in the facade: various types of windows and doors, including roof windows MB-SR50N RW, as well as tilt windows and parallel opening windows MB-SR50N OW
PRO ALU IZO system is certified by the PHI Darmstadt Institute in the highest class A+, which is a confirmation that the structures made in it can be used in the construction of passive buildings.
Technical parameters of the system:

Air permeability:

Class AE (1350Pa), EN 12153:2004; EN 12152:2004

Watertight:

class RE 1800Pa, EN 12155:2004; EN 12154:2004

Wind load resistance:

2700PA, EN 12179:2004, EN 13116:2004

Safety check:

4050 Pa EN 12179:2004, EN 13116:2004

Impact resistance:

Class I5/E5, EN 13049:2004, EN 14019:2006

Thermal insulation (Uf):