PRO86 ALU US window with concealed sash
PRO86 ALU US system is used to make various types of windows, balcony doors, vestibules, showcases and spatial structures, which are characterized by very good thermal and acoustic insulation and high tightness to water and air. The characteristic feature of the structure is its appearance: the profile of the sash is hidden behind the profile of the frame, and the surfaces of the panes mounted in the openable and fixed fields lie on one plane. Thanks to this, the open and fixed sections from the outside look identical.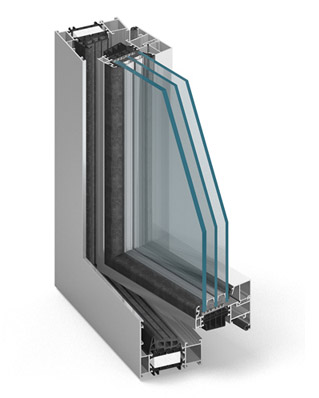 The depth of window sections is equal to: 77 mm (frame), 80.8 mm (casement). The width of window frames in view from the outside of the building is small, so that the glazing area and the amount of light entering through them is maximally enlarged, and the construction creates the impression of slender and lightweight. The range of glass thicknesses possible to use is: in the window frame – from 7 to 52 mm, and in the window sash – from 15 to 60 mm. Such a wide range of glazing allows for the installation of all types of two- or three-chamber glass, acoustic or anti-burglary glass available on the market.
In terms of technical properties, PRO86 ALU US system meets all requirements for energy saving and environmental protection.
The structure, similarly to the base system PRO86 ALU, has, depending on the requirements of thermal insulation, three variants of execution: PRO86 ALU US ST, PRO86 ALU US SI and PRO86 ALU US AERO using modern aerogel insulation inserts.
The system gives great possibilities in the scope of performed constructions: the maximum dimensions of window sashes exceed the values considered standard for this type of construction. Hs max=2.5 m, Ls max=1.6 m. The maximum weight of the sash is 150 kg.
Technical parameters:
Air permeability: class 4, PN-EN 12207:2001
Watertightness: class E1350, PN-EN 12208:2001
Wind load resistance: up to class C5/B5, PN-EN 12210:2001