PRO750, PRO760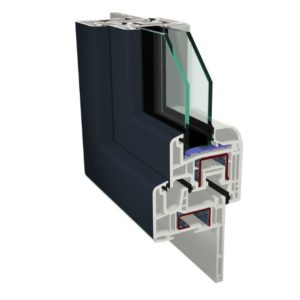 The characteristic element is the so-called renovation frame, which is often used to install windows in renovated premises, where the frame of the old window remains disassembled and the new frame covers its profile from the inside. In Italian building industry it is often used also in newly erected buildings.
The appearance of the window is significantly determined by the system of profiles from which it is made. That is why we have given our exclusive S 7000 IQ profile special properties. They are characterized by harmonious proportions, rounded shapes, slenderness and perfectly smooth surface.
Windows with narrow profiles let more light into the building. The S 7000 IQ profile system reinforces this effect with very narrow sash and post areas, thus giving the window a filigree appearance. The correspondingly larger steel reinforcements in the profiles provide the right structural statics.
The S 7000 IQ system has a depth of 74 mm. The sophisticated internal use of five chambers in every detail prevents the formation of thermal bridges and thus optimises the thermal insulation. In addition, the contact of the internal gaskets is also provided with chambers. This means that the entire profile package, including the rebate area, has five chambers. The tested U-value of this profile combination, including the standard steel stiffener, is extremely low and amounts to Uf = 1.2 W/m²K.
GEALAN offers, together with the S 7000 IQ security profile, burglary protection, which is an integral part of the system. A profile depth of 74 mm, as well as the strength of the materials used and the way the internal gasket is seated, provide an additional barrier, which guarantees greater security of the window. They are complemented by a stable fixing of fittings in the frame.
S 7000 IQ was the first profile system to undergo a series of burglary tests at an authorised Technical Test Institute in Germany. Windows with different opening methods, constructions and profile types in a wide range of applications have been certified for burglary resistance classes WK1 to WK3 according to DIN V ENV 1627 ff.
|   | PRO750 / PRO760 |
| --- | --- |
| Profile | 6-chamber, classic shapes, simple. Built-in depth 74 mm. Central sealing with anti-burglary frame rebate, dry fitting chamber. |
| Glass | Possibility of using even a 4/18/4/18/4 U=0.5 W/m2K package and other variants such as protection against burglary, noise or sun. |
| Fittings | SELF-REGULATING fittings equipped with anti-burglary catches, the possibility of tilting grading in each tilt and turn sash. |
| Colours | Wide range of colour and woodgrain veneers. |
| Additional info | Windows intended for use in very windy places (e.g. mountains, open shoreline). Due to increased sound absorbing parameters, they are perfect for use near noise centers – roads, kindergartens, schools, etc. The structure of the profiles which makes it difficult to break in suggests using them in houses distant from human settlements, e.g. on the walls of the building from the side of the forest. |