PRO86 ALU ST window and door system with thermal insulation
The PRO86 ALU window and door system is a product with very good parameters, giving the possibility to satisfy various needs of users.
The structure of its sections has 3 variants depending on the requirements of thermal energy saving: ST, SI and AERO. PRO86 ALU is the first aluminium window and door system in the world to use aerogel – a material with excellent thermal insulation. The advantages of the PRO86 ALU system also include the high strength of the profiles, which enables the construction of large-size and heavyweight structures.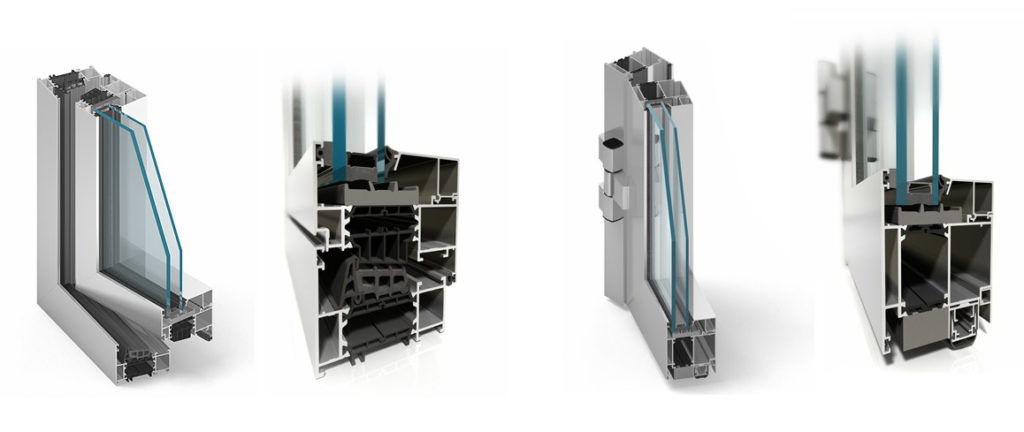 Features that influence the functionality and aesthetics of PRO86 ALU system constructions:
wide thermal separators of a new shape, allowing for the use of an additional partition in the insulation zone of profiles
Two-component central gasket perfectly seals and thermally insulates the space between the sash and the frame.
wide range of sections guarantees the required aesthetics and durability of the structure
glazing beads with additional seal, available in three variants: Standard, Prestige and Style
profile shapes adapted to the installation of various types of envelope fittings, including concealed hinges
wide range of glazing allows to use all types of glass, including double-chamber, acoustic or anti-burglary glass.
profile drainage available in two variants: traditional or concealed
Technical parameters of the system:
Air permeability:
windows: class 4, doors:
class 3, PN-EN 12207:2001
Watertightness:
windows class E 1500 Pa,
doors class 5A (200 PA) PN-EN 12208:2001
Thermal insulation (Uf):

PRO86 ALU ST:
windows: from 1.39 W/(m2K),
doors: from 2.16 W/ (m2K)
PRO86 ALU SI:
windows: from 0.92 W/(m2K),
doors: from 1.76 W/(m2K),
doors: PRO86 ALU SI+: from 1.49 W/(m2K)
PRO86 ALU AERO:
windows: from 0.57 W/(m2K),
doors: from 1.22 W/(m2K)

Wind load resistance:
windows: class C5,
doors: class C1/B1, PN-EN 12210:2001