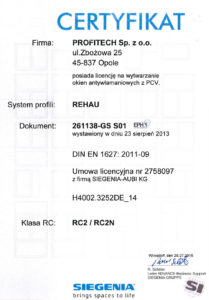 Profitech jest jedną z niewielu polskich firm, która może poszczycić się oknami z Certyfikatem RC2.
Jest to certyfikat na okno antywłamaniowe, wydany przez IFT Rosenheim czyli najbardziej znaczący i bardzo poważany instytut badający jakość stolarki okiennej. Certyfikat RC2 jest potwierdzeniem dopuszczenia do oficjalnego obrotu wytworzonego przez Profitech produktu antywłamaniowego.
Zastosowanie okien Profitech RC2 pozwala w Niemczech na ubieganie się o zniżkę przy ubezpieczeniu mienia.
Okna Profitech to produkt bezpieczny i niezawodny.